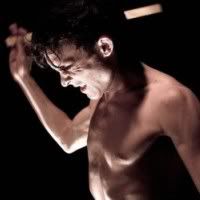 Moving straight on to the winner of the Papatango playwrighting competition,
Foxfinder
. Dawn King's dystopian parallel England is part-
Crucible
, part-
1984
, with a 1940s aesthetic from designer James Perkins. Tom Byam Shaw as William, the monk-like titular character, is a skinny, timidly polite teenager, but the other characters are terrified of him as he asks a series of apparently crushingly pedestrian survey questions. Sam (Gyuri Sarossy) and Judith (Kirsty Besterman) run a farm that's not been as productive as the authorities would like, and William is there to investigate whether a fox is to blame, or whether the couple have been mismanaging the farm. Foxes are universally known as malevolent creatures with quasi-demonic powers, to blame for any catastrophe. But neighbour Sarah (Becci Gemmell) has got hold of a banned pamphlet that says foxes were hunted to extinction years ago, and England's problems can't be blamed on them.
The setup obviously raises ideas about governments scapegoating but the intimate story also takes some creepy turns. Having recently lost a son, Sam is prone to falling for the myth of foxes as the source of all misfortune, and becomes obsessed with exacting revenge for his death. And while William has the power to send the farmers to a lethal-sounding Factory, his upbringing (taken from his family at the age of five to be trained as a Foxfinder) has also left him damaged, including daily self-flagellations (which I am choosing to take as Byam Shaw atoning for
Cirque de SolAriel
.)
Perkins has somehow managed to configure the tiny Finborough space into a catwalk-like raised thrust stage, an impressive and moodily effective design. Although too often the action is blocked as if for traverse staging, with actors facing off against each other from opposite ends of the platform - director Blanche McIntyre probably won't be getting a call to work on the RSC's smilar-shaped stages
just
yet. I was sitting on the far end with my view often blocked by an actor's back, which may have contributed to occasional slight dips in my interest. But on the whole this is an original, eerie and powerfully-performed piece whose ultimate meaning remains hard to pin down, but which provides some striking moments along the way.
Foxfinder
by Dawn King is in repertory until the 23rd of December at the Finborough Theatre.