For Mum's birthday present last night I took her to Monty Python's Spamalot at the Palace Theatre. At no point when I was asking her if she wanted to see this show, or when I booked it, did she remember to say she's not really a Python fan. It was only after we'd seen it that she shared that little piece of information. Luckily, she loved it anyway.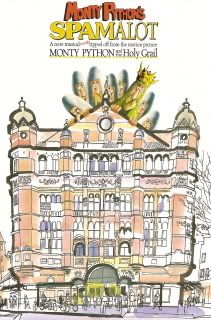 The show's had mixed reviews but I really enjoyed it and it seemed like most of the full house agreed. It's weird, a stage adaptation of a film is bound to have a lot of lines identical to the original but when you're talking about Monty Python these are lines that have been memorised and repeated non-stop ever since. For my money though, Holy Grail is by far the best Python film, so the gags bear repeating - as soon as you hear the familiar sound of a coconut pretending to be a horse, you know what you're in for. It does mean though that much of the audience around me was prone to saying the lines a fraction of a second before the actors did, although fortunately this died down after a while.

This is a musical version of the film and the songs are very funny but not all that memorable. They largely pastiche musical theatre conventions, the best of them being "The Song That Goes Like This." Was I the only one who couldn't enjoy "Always Look on the Bright Side of Life" properly because I was too busy thinking that it's not from Holy Grail, it's from Life of Brian? Thought so.





Mum and I saw Simon Russell Beale twice on stage last year and many times before that, he's rightly one of the country's top stage actors and here he shows a different side as the grinning idiot King Arthur. He's got a good singing voice and provides a (w)anchor for the madness to revolve around. I was looking forward to seeing Tom Goodman-Hill, who I've had a crush on since People Like Us, as Lancelot, but sadly he was ill. Understudy Craige Els was excellent though, and pretty sexy in Lancelot's tight-trousered coming-out scene. The undoubted scene-stealer though was Hannah Waddingham as the Lady of the Lake: A great singing voice in its own right as well as when spoofing everyone from Liza Minelli to Whitney Houston, plus very funny in her divaesque role, complaining whenever she's been offstage for too long.

So very funny, great performances but one weird thing I couldn't quite get over: Obviously this is a transfer from Broadway, and apart from a few small details I got the impression not many changes had been made. That's fine but it's a bit odd to see something as British as Monty Python re-written for an American audience and then presented in the UK. Things like Camelot as Las Vegas, or the need for Jewish backers to make the show a hit are in-jokes that, while being completely understood by the audience seemed a little incongruous in the West End. (This sort of thing isn't a problem in something like The Producers which is so firmly set in Broadway, but in something so English it's weird to do local jokes based on where the show was originally produced, not where it is now.) It still worked, but I wonder if they could have tried some bolder rewrites to fit the show into its new home.

By the way, for once the £3.50 for the (cheaper of the two - there's a more expensive "brochure" for £7) programme is worth it, as there's several pages expanding on the moose-based opening credits of the film. It promises a musical about Finland's economic growth set in a sauna, and includes the terrifying announcement: "There will be three intervals. One every two and a half hours."

Spamalot by Eric Idle & John duPrez is booking until the 3rd of November at the Palace Theatre.