On Thursday night, for the second year running, our company took part in a charity walk around London. A bit of a vaguely defined charity that none of us can get too excited about, but apparently it's a good cause etc etc. They provide help to people who worked in the newspaper trade and have fallen on hard times - so presumably they'll be helping those of us who get made redundant in a few months' time as a result of the merger? Well we won't hold our breath... Fearless Leader is very keen on us doing this in order to raise the company's profile - although since for the second time in a row the T-shirts he promised have failed to materialise, you've got to wonder exactly how many people were aware of us (I reckon about three, the people who actually stopped us and asked where we were from.) The rest of us take part 'cause we get given loads of freebies along the way we're such bloody humanitarians and that.

Fearless Leader himself was too busy to come along (we managed to hide our disappointment

) so it was just me, Chrissie and
vanessaw. The walk started at St. Paul's.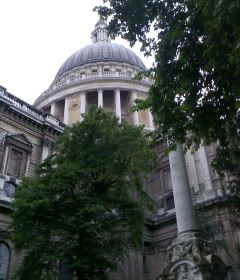 Along the way we had to stop at 22 stations sponsored by different newstrade companies, get our card stamped to show we'd done the walk, and if we were lucky get a goody bag. Luckily the first table gave away a large bag (with Zest magazine on the side so Mum can have that) so we could tip stuff from the other tables into that. A lot of the tables had sweets and bottled water on them, but some of them were a bit miserly about actually letting you take any - the sweets were on the table, but they'd just "happened" to leave loads of other stuff on top of them so you couldn't get to them without looking greedy.

Other stations were more generous, not just with goody bags but also encouraging you to choose stuff from their table, and one company practically forcing a bottle of beer on you, which must have been a boon to any passing alcoholics1. The route crossed the Millennium Bridge to the South Bank, curving round past the Golden Hind, which was quite busy with schoolchildren - I guess now the other famous ship in the area is out of action, they must be getting extra punters.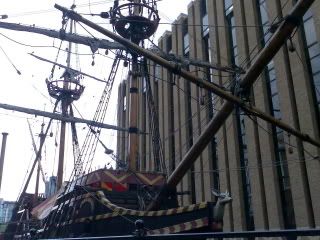 It ended at the HMS Belfast, which we didn't go on 'cause you needed an overpriced ticket for the party, so we went back to Hays Galleria and had a bagel and coffee paid for by the company. Then Chrissie went home, Vanessa and I went to the pub, and along the way I spotted that cute little red-cheeked ginger bloke off of Eastenders. It's all glamour, I can tell you!

I was going to do a list of all the freebies we picked up along the way, but that might have smashed the feeble pretence that we were actually doing this for the charity. Honestly, last year Fearless Leader didn't even bother to collect the money that had been pledged; I'm going to at least try and make sure that gets done this time.

1and, if the rest of the newspaper industry is as annoying to work for as our company, there must have been plenty of them around.