What with this week off being all about theatre, and tomorrow the only weeknight when I don't have a show to see, the reviews on this blog are all going to be bunched up. So how on earth can I make each one stand out from the others?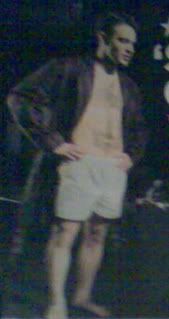 Nope, no idea. I haven't seen Stardust yet (I know, and I call myself a Neil Gaiman fan) so I haven't really got onto the Charlie Cox love train. Although for some reason seeing him in this Pinter double-bill has helped me see the attraction.





See, Avenue Q? That's how you do on-street publicity. (Sadly my cameraphone didn't do a very good job but trust me, this has probably helped ticket sales.)

Aaaanyway. These two one-act plays were initially produced as TV dramas in the 60s, but transfer well to the stage. The first, The Lover, stars Richard Coyle and Gina McKee as Richard and Sarah, a couple married for ten years. In very funny opening scenes, they cheerfully discuss Sarah's long-standing affair with another man, in the afternoon while Richard's at work. They're equally blasé about Richard's visits to a prostitute. But there's a twist - their extramarital lovers are in fact each other: Since the earliest days of their marriage they have played these elaborate role-play games to keep their love-life exciting. But Richard and his alter-ego Max are sick of the "infidelity" - the trick here is that neither Sarah nor the audience can be entirely sure how much this change of heart is genuine, or just a new part of the fantasy. The play is hilarious, especially in the first half, with both actors having great comic timing, while as it continues it gets more and more unsettling.

After the interval Coyle and McKee play another married couple, fashion designers James and Stella, in The Collection. They're joined by Timothy West as Harry, an ageing gay designer who has taken in Charlie Cox's much younger, bisexual Bill as his "protege." This being a 60s TV drama their relationship is never spelt out, but is pretty obvious. This play has a sense of menace right from the start, as Stella has returned from a fashion conference claiming to have spent the night with Bill in her hotel room. James goes to confront Bill, only to find himself drawn to him - their relationship alternates between flirtation and violence. The theme of truth and fantasy is even stronger here, with Bill and Stella confirming and denying so many versions of their night together it's hard to say which is the true one, or which would constitute the biggest betrayal.

In Jamie Lloyd's perfectly-timed production all four actors are great - Timothy West nicely lightens the tone of The Collection when it threatens to get a bit too dark. Soutra Gilmour's set is airy for the first play while the same design seems oppressive in the second, with the two couples' flats overlapping. Ben and Max Ringham's minimalist music and sound design adds to the unsettling effect. And yes, Charlie Cox is in his pants at one stage. He's very hairy. And can get out of his clothes very quickly, information which may be of interest to some people. He won't be getting an avatar on this blog anytime soon, but he's certainly nice to look at. I mean, who doesn't like Cox?1

Overall a very worthwhile revival. The Lover / The Collection by Harold Pinter is booking until the 3rd of May at the Comedy Theatre.

1Yeah, and you thought I'd make it to the end without doing that gag, didn't you? No chance.