It was only a few days ago that I made a post mentioning Battlestar Galactica's Tahmoh Penikett. And now he's been cast as the male lead in Joss Whedon's new show Dollhouse opposite Eliza Dushku. Joss is a Galactica fan so I guess this'll keep him happy, and I'm sure there'll be something worth watching for the rest of us as well.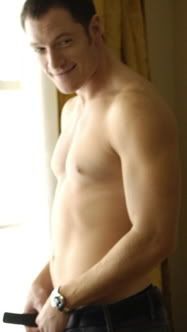 Here's the article listing the confirmed cast members so far - Eliza Dushku, Tahmoh Penikett, Fran Kranz, Dichen Lachman and Enver Gjokaj. I'm not the only one to notice it, am I? I think it's a good thing that actors no longer feel the need to change their names to something a bit more WASPish, but this could well be one of my future favourite shows, and it doesn't look like I'll be able to pronounce the name of a single actor in it.

Still, in addition to Penikett it looks like Enver Gjokaj could be someone I'd be happy to do all sorts of things to - even if saying his name out loud isn't one of them.