First trip to the Donmar Warehouse this year (in case I needed reminding that I didn't get to see Chiwetel Ejiofor as Othello) and it's to see Peter Gill's revival of his own 1970's play Small Change. A bonus is that it stars fittie Luke Evans (in the avatar, and in the brown shirt below) who's been mentioned before Round These Parts.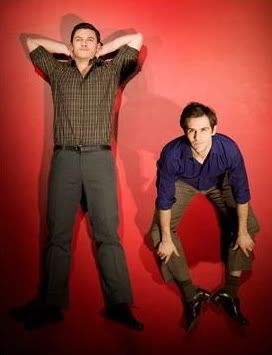 It tells the story of two sets of mothers and sons, living next door to each other in 1970s Wales in great poverty. Vincent (Evans) and Gerard (Matt Ryan) both have love/hate relationships with their mothers (Lindsey Coulson and Sue Johnston respectively) but also in love with each other, the tragedy of the piece being that they suppress this all their lives, even after they have the opportunity to accept it, each stubbornly rejecting the other's attempts to deal with the situation. Very much an expressionist play, the story lurches backwards and forwards in time, from the boys growing up in the 1950s to their final meeting as adults. The language tends to be quite poetic, lingering on unfinished sentences and repetition, which works a spell in the first act. In the second act this wears a bit thin as the writing gets almost wilfully oblique and avoids any chance to make what Gill's trying to say clear - notably in the final scene when the men talk about their love for each other, which for some reason seems mixed with an unconnected conversation about politics.

With a minimalist, dark red set, the production is all about the perfomances, and that's what saves the evening - all four are excellent (Evans's performance is powerful, so not just a pretty face) although would it have killed Sue Johnston to at least try to do a Welsh accent? A strange night at the theatre really, you can't help enjoying the performances but the only real emotional moment is the two women slow-dancing in a brief moment of simple happines, which is suddenly and unexpectedly moving. A flawed piece and an unusual one to revive, but there's plenty to appreciate.

Small Change by Peter Gill is booking until the 31st of May at the Donmar Warehouse.