A weird one to revive, this. Simon Gray's play deals with a group of students who, over the years, stay in touch but have to accept that time will compromise their ideals and change their relationships with each other - all set against the backdrop of an unashamedly, almost aggressively elitist literary magazine they set up when they first meet. The context means this 1980s play doesn't feel remotely relevant to today: Why should we care about the fate of a magazine that seems to deliberately alienate anyone who might be interested in it? It's particularly odd to see this revival at the Menier Chocolate Factory, essentially a testing-ground for potential West End shows - I can't see this one having much chance of a transfer.

Having said that, it does make for an enjoyable evening even if you can't really emotionally connect with it. The play is unashamedly intellectual but does have several big laughs, and the performances are excellent. I went with Evil Alex and
vanessaw, and the latter had forgotten James Dreyfus was in the cast, so when he walked onstage she had one of her not-entirely-rare occasions of getting loudly excited, gasping "oh it's him, I love him!" Dreyfus really does steal the show in a role that plays against type for him: Although once again a gay character, Humphry is the most fiercely intelligent of the group, and his take-no-prisoners attitude makes him come across as almost a physical threat. Ben Caplan is good as the solid, less-imaginative heart of the group. Reece Shearsmith is morphing disturbingly into Ronnie Corbett, even when he isn't wearing hornrimmed glasses. The play's not exactly feminist-friendly, with all the offstage women being harridans and figures of fun, but as the one onstage female character Mary Stockley has a strong presence in her brief appearances. And Nigel Harman gets laughs from some very dry lines. He also remains hot as ever.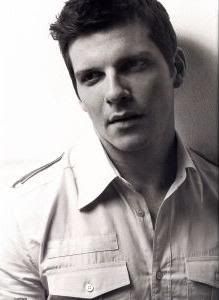 Fiona Laird's production is far from a waste of time, with the actors putting a great deal of effort in, but eventually it remains unengaging - there's plenty of laughs at the characters' witticisms, but ultimately you don't care what happens to them.

The Common Pursuit by Simon Gray is booking until the 20th of July at the Menier Chocolate Factory.