It's not often the interval is as important or more so than the play, but prior to moving there permanently in the autumn the Bush are introducing the audience to their new, larger venue at a former library, testing out three different seating configurations and asking for feedback. Given they were already a studio theatre whose configurations changed with the demands of each director and designer I would ask what difference a trial run will make but after the fiasco of the Arcola's move I can see why they'd want to avoid something similar. The National Theatre's prop store provided 9 unusual props including a necklace made of human fingers, a nodding dog and a giant strawberry. For each configuration, a well-known theatrical figure provided a selection of stage directions, which a plawyright had to construct a short play from.

The last playwright to have a show at the old Bush pleasingly becomes the first to inaugurate the new one, Deirdre Kinahan with The Fingers of Faversham (thrust staging; stage directions from Michael Grandage,) a very silly comedy about a provincial theatre company that's recently hired Denise (Nina Sosanya) to direct its Christmas show; little knowing she'd turn The Wind in the Willows into a bleak socialist parable complete with a suicidal Toad and rehearsals that start with intimate massage. It's really funny, a great start to the evening giving the whole cast of six their moment, including Hugh Skinner as an eager-to-please Ratty in very short shorts, which you won't see me complaining about.

Next Tom Wells' Fossils (in the round; stage directions from Alan Ayckbourn) is still a comedy but a more wry affair as Helen and Philip (Francesca Annis and Richard Cordery) meet years after an acquaintance that never quite turned into a romance, and (with the help of some of the 9 props) imagine their lives had they got together in their younger days.

Things turn darker still for the concluding Red Car, Blue Car by Jack Thorne (end on with a raised stage; stage directions from Josie Rourke, more on whom later,) a series of connected monologues led by Sosanya and Hugo Speer that build up a picture of a traumatic event. Given some rather impossible stage directions Thorne does cheat a bit but it's a powerful conclusion to the evening and the diversity of themes shows off the new performance space as much as the seating changes do. All the performers (the sixth is Debbie Chazen) are great but it's particularly nice to see Sosanya, in both her roles, given something different from the ice maiden she's usually typecast as on TV.

The unsung stars of the show though are the technical crew, who in the extended (20 minutes, then about 30 minutes) intervals between playlets take apart and reassemble the entire seating banks into the three different configurations that give the evening its USP. While this goes on the audience is invited to explore the whole building, leaving feedback about the venue and what they'd like to see there in the future. So for example you leave marbles in a box representing the type of seats you'd prefer them to use (benches, fold-down etc) or leave Post-its on the dressing room wall (I wondered where the actors got to when the audience were inspecting the backstage area) answering questions like "what is theatre?" You'll be pleased to know that yes, someone has responded thusly: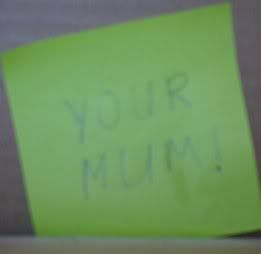 This was a fascinating evening and ironically a very welcoming one, ironic because unfortunately I'm most likely to remember it for how it ended: After the bows, Artistic Director Josie Rourke took to the stage to announce a post-show discussion that was only open to Friends and Supporters of the theatre. Her announcement ended in a rather weird, mangled sentence in which she seemed to be trying not to actually tell everyone else they were not welcome, while not suggesting that they were either. As we got up I said to Andy "so, did she just tell us to fuck off?" and it can't have just been us because the woman next to him overhearing me, said "definitely, fuck off." I can understand why a theatre would want to make its financials backers feel special but I'm not sure telling the majority of the audience that they're not special is the best way to go about it. If you're so determined to keep the post-show event exclusive maybe giving the backers an extra ticket for readmission would be better than telling everyone else there's a party they're not invited to. I was rather sorry that I've already booked tickets for Rourke's final season at the Bush, if this is the regard they have for people who pay to see their shows. It didn't make me want to become a member of the Bush, but it did make me think about cancelling my Donmar membership when Rourke takes over there. And while I'm ranting, what exactly does it achieve to have the actors come out and see a couple of dozen people want to hear what they have to say, in an auditorium than now holds a couple of hundred? The show ended at 10 and it takes me a while to get home so I probably wouldn't have stayed anyway but it's a question of public relations; for future reference, "If you're not a supporter you're welcome to stay anyway and maybe you'll consider becoming one" might be a better line than "If you're not a supporter, why not?" More flies with honey than with vinegar etc etc. </rant>

Where's My Seat? by Deirdre Kinahan, Jack Thorne and Tom Wells is booking until the 2nd of July at the (new) Bush Theatre.