I needed a couple of new pairs of trousers for work, and since they'll only get dirty within minutes of me getting to the office I didn't really want to spend a fortune on them. So my mum convinced me - against my better judgement - to set foot in Matalan. I found a rail of black trousers at 2 for £20 so that'll do. After trying a pair on I made sure I picked two in my size that actually had the "2 for £20" tag on them and went to the checkout. Oh if only it had been that easy...

After waiting in the queue I got to a till eventually, to be asked "Do you have a Matalan membership card? Do you want one?" No. "Well you can only have the discount if you have a membership card." Bastards. So now I have a Matalan card I won't be using. However the discount still wasn't accepted by the till. The woman said the trousers weren't part of the offer - it should have been only the £14 pairs on offer, and I had a £16 and an £18. Well, the hangers you've got in your hand right there have got the discount tag on them, clear as you like. "Can you show me the rail?" So I have to take her on a guided tour of the shop she works at. I'd noticed that the different pairs of trousers had got mixed up on the rails which is why I'd been careful to pick two with the tag on them. She had to admit the evidence of her own eyes, not only were there trousers of all prices on the same rail but they were tagged as part of the discount.

She still had to check with about half the staff though before she could let me pay my £20, so I waited back at the checkout - where I noticed that the people at the tills either side of me were the same people who'd been paying when I left. Yep, that's why the queue was so long, everyone was taking about 10 minutes to get served. It could have been worse I guess - I'm sure the guy serving at the next till was Cletus the slack-jawed yokel. Finally the woman returned with her supervisor and said I could have the trousers for £20 - she admitted it was "quite misleading" and I'd be the last person to get them for that price. Er no, I told her it wasn't quite misleading, it was misleading. This was me being polite, what I wanted to say was that it was illegal, and called false advertising. Still, I saved £14 - eventually.

I then went across the road to the proper shops to find some jeans for going out in. River Island was no good unless I wanted severely distressed denim, but I finally found a dark grey pair in Next. And I used some of my WHSmith voucher on the new issue of the resurrected Attitude - sod the naked McFly pics, I was happier that they'd got the lovely Jon Robyns from Avenue Q with his kit off.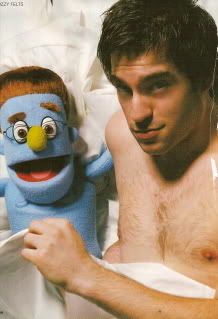 Naughty Attitude though - putting the photo on the fold like that so I couldn't scan it properly. I don't know, ineptitude everywhere I look today!