Five posts in a day? I guess I'm making up for lost time. I did promise Sean I'd talk about this soon, and it does seem to be one of things people are really interested in finding out about. Plus all the photos from it are on my phone so I don't have to wait for the rest to be developed before I can blog about my nights (plural!) in a capsule hotel. Or, as I like to think of it, a morgue you can stay in without necessarily having to die first.

Actually that makes it sound a lot worse than it really is. It's true that I only wanted to stay there so I could say I'd done it; I remember, as do a lot of people it seems, reports on programmes like Tomorrow's World years ago about the latest mad thing the Japanese had invented, in this case a hotel where the "rooms" were little pods laid out in rows, with just enough room to sleep in and not much more. Handy for people who didn't want to splash too much cash if they were only going to use their hotel room to sleep in. It sounded so weird that it was one of those things I couldn't come back from Japan without having tried it at least, so I asked my sister to investigate. This turned out to be trickier than expected, because Penny needed to be able to stay there as well and very few of them allow women - it's not considered appropriate for women to use a capsule hotel. Her guidebook mentioned only two in Tokyo, and after looking for the first one she realised that the big empty space she'd walked past several times was where the hotel used to be - not the first or last time Lonely Planet turned out to be rather out-of-date.

So there's now only one mixed-gender capsule hotel in Tokyo, in the Asakusa suburb, so that's where we went on the 14th of March, the night before leaving Tokyo to travel South. Even this only has one floor set aside for women, as opposed to 5 floors of capsules for men. The hotel takes up floors 2 to 9 of a building with the entrance up some stairs on a back street. When you get in you have to take your shoes off and put them in a little locker which has a pair of slippers for you to put on. You don't actually pay at the desk - the place is minimally staffed and there's a ticket machine where you can choose how long you want to stay for. An overnight stay costs 3000 yen (about £15.) There's also cheaper options to stay for a few hours at a time. Obviously this isn't for the same reason some hotels offer rooms by the hour, since there's only just space for one person per pod. Rather that it seems popular with people who want to take a few hours' break in the afternoon, a shower and a brief lie-down - possibly businesspeople who know they're in for a late night and want to rest up for it. In fact the majority of guests seem to be businessmen who miss the last train home and need somewhere cheap to crash out - the hotel even sells fresh shirts for them in the lobby.

There's also the foreign visitors like us of course, and since there's no space in your pod for luggage the lobby is piled up with rucksacks (the atmosphere in Japan is a lot more trusting, it'd be pretty much unheard of for someone to steal something that'd been left there.) When you hand in your ticket and your small locker key you get a key to a larger locker, with the number of your capsule. The 2nd floor is the lobby, floors 3-7 the men's pods, 8 the women's and 9 another shared area including the showers and a balcony with a not-bad view: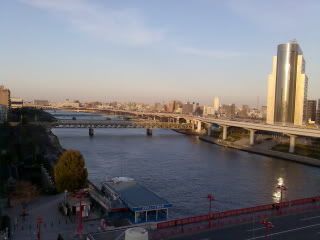 Including the Asahi Beer "golden turd:"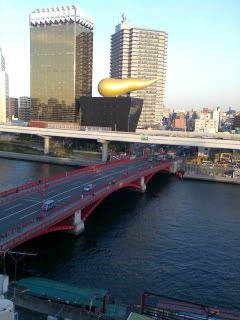 Up here there's also a vending machine for free green tea, which seems pretty much compulsory.

Once we dumped our stuff we went to look around Asakusa itself, which fortunately isn't bad for things to do. There's a very tourist-oriented market, at the end of which is the Senso-Ji Shrine (already my second shrine of the holiday) which was supposedly founded after some fishermen found a staue of Kanon, goddess of mercy, in their nets. The statue is now kept hidden away somewhere secret so I'm not convinced it exists, but that's just me. Here's some photos from around the shrine grounds: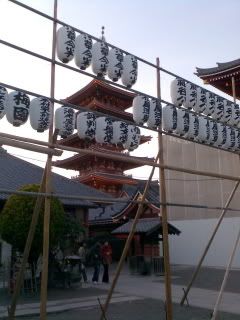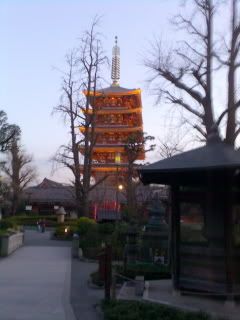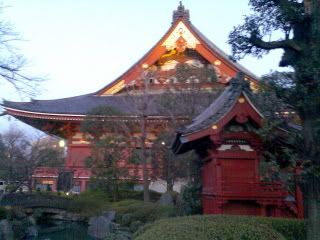 These twin statues are supposed to represent two aspects of the Buddha. The first one is wisdom, but from the way he's holding his hands up going "tell me about it!" I think the second Buddha is Jewish, which is a bit of a mixed message really.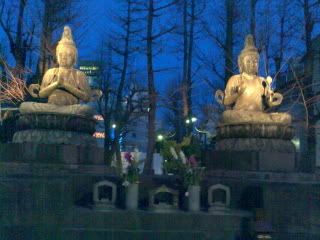 Back to the hotel, the larger lockers as well as being somewhere to leave your stuff contain towels, a toothbrush and razor, and even a pair of pyjamas. The Japanese men actually get changed at their lockers, but like the other Westerners I chose to take as much stuff as possible into the capsule and put my jimjams on in there. There's almost enough room to sit up in the capsule, and as well as your mattress there's a radio, alarm clock and, of course, a telly, built into the walls. There's no door or you'd suffocate, instead there's a little blind which you pull down to get a bit of privacy and show that the pod's occupied. A bit too dark to see properly but for what it's worth here's the view I had: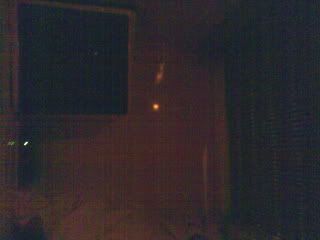 I actually didn't sleep too badly, although it turns out Penny didn't sleep a wink. I woke up pretty early, had my breakfast of dodgy convenience store food we'd bought the night before, and after getting bored decided to get on with my shower, so up to the top floor it was again, where the sun was still rising so I got another pic of the golden turd: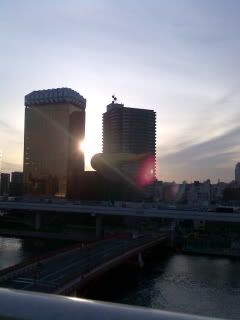 This being Japan and a cheap place you wouldn't really expect a private shower, what you get is an Onsen-style shared shower with a huge bath next to it, so this was my bit of public nudity for the trip. There was no shortage of talent at the capsule hotel - there was a really cute barefoot Japanese guy reading a manga in a capsule along from mine on my second stay, as well as any number of hot Western guys - but both times I just got to shower with the predictable middle-aged Japanese businessmen. Shame, that would have been a nice bonus. What? I'm just saying.

I got my stuff packed again and ended up reading my book and drinking a coffee in the lobby while I waited for Penny to come down so we could go to the train station. Like every couple of spare square feet in Japan, the lobby was filled with vending machines, where I got this particular example of an "interestingly" named Japanese soft drink: Nob King.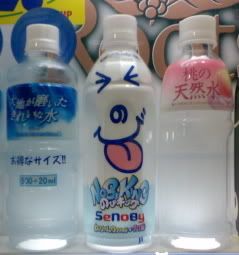 Look at him there, with his tongue hanging out, enjoying the nobby taste. Oh come on, I've had two weeks with my sister cramping my smutty style, I need to get it out of my system.

Despite Penny not getting any sleep we both agreed it was a lot better than we'd expected, and when our first choice of hotel for our return to Tokyo wasn't available, we decided to stay at the capsule again so were there again on the 23rd. Penny actually got some sleep so it must have just been stress about the journey the first time. I realised I'd never got a photo of what all the row of capsules looks like so I rectified that: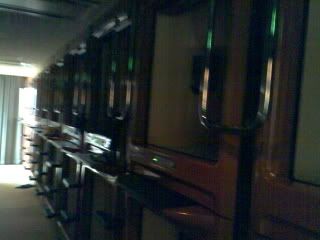 Yes, it does look disconcertingly like you have to crawl into a tumble drier. But it's actually a lot better than that. (In fairness I'm not sure how it could be much worse but you know what I mean.)